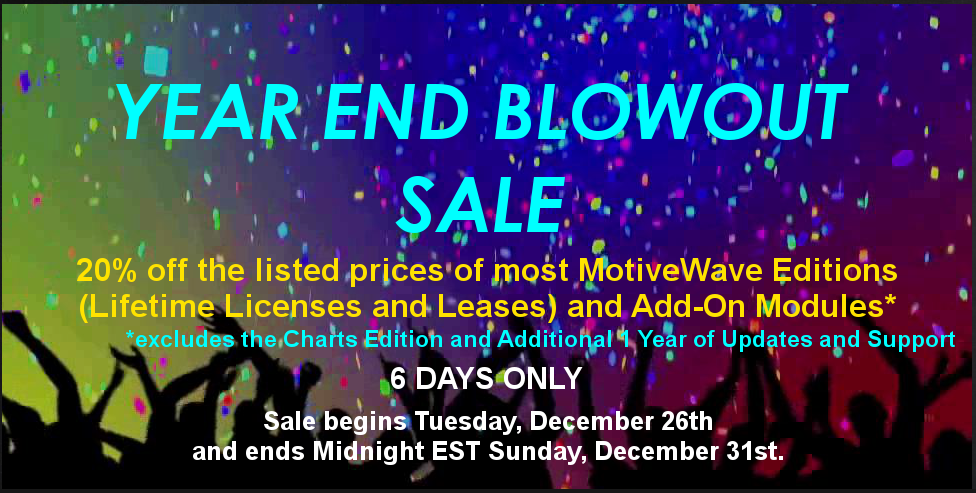 Back by popular demand: MotiveWave Year End Blowout Sale! So many asked for it again, that MotiveWave has decided to have one again this year!
MotiveWave's Year End Blowout Sale is on now and only goes until Sunday, December 31st, 2017 at Midnight EST. You have 3 DAYS left to get in on this Year End Blowout Sale that cannot be extended past December 31st.
This sale is 20% off most MotiveWave products. (The only exclusions are the Charts Edition and the Additional 1 Year of Updates, which remain regular price.)
This means 20% off Lifetime Licenses (excluding the Charts Edition, which remains regular price), 20% off Leases and 20% off Add-On Modules.
Make sure you take advantage of this sale before it's gone!
Note: The prices you will see on the MotiveWave website are regular prices, but you will see the special 20% off Summer Sale discount applied during the purchase process before you are asked to pay. If, for some reason, you do not see the discount on the checkout page, please contact MotiveWave before purchasing and before the end of the sale.
(This article was published previously on Elliott Wave Stock Market.)