Upwards movement was expected for Monday. A new high was made and thereafter price has moved sideways. The Elliott wave structure is incomplete.
I am changing the alternate wave count today. Both wave counts expect the same direction next.
Summary: I am confident that upwards movement should resume soon (within a very few hours of publication). The target is at 1,340 for the main wave count (60% probability). If price moves above 1,345.22 then the target is at 1,352 for the alternate wave count (40% probability).
Click on charts to enlarge.
Main Wave Count.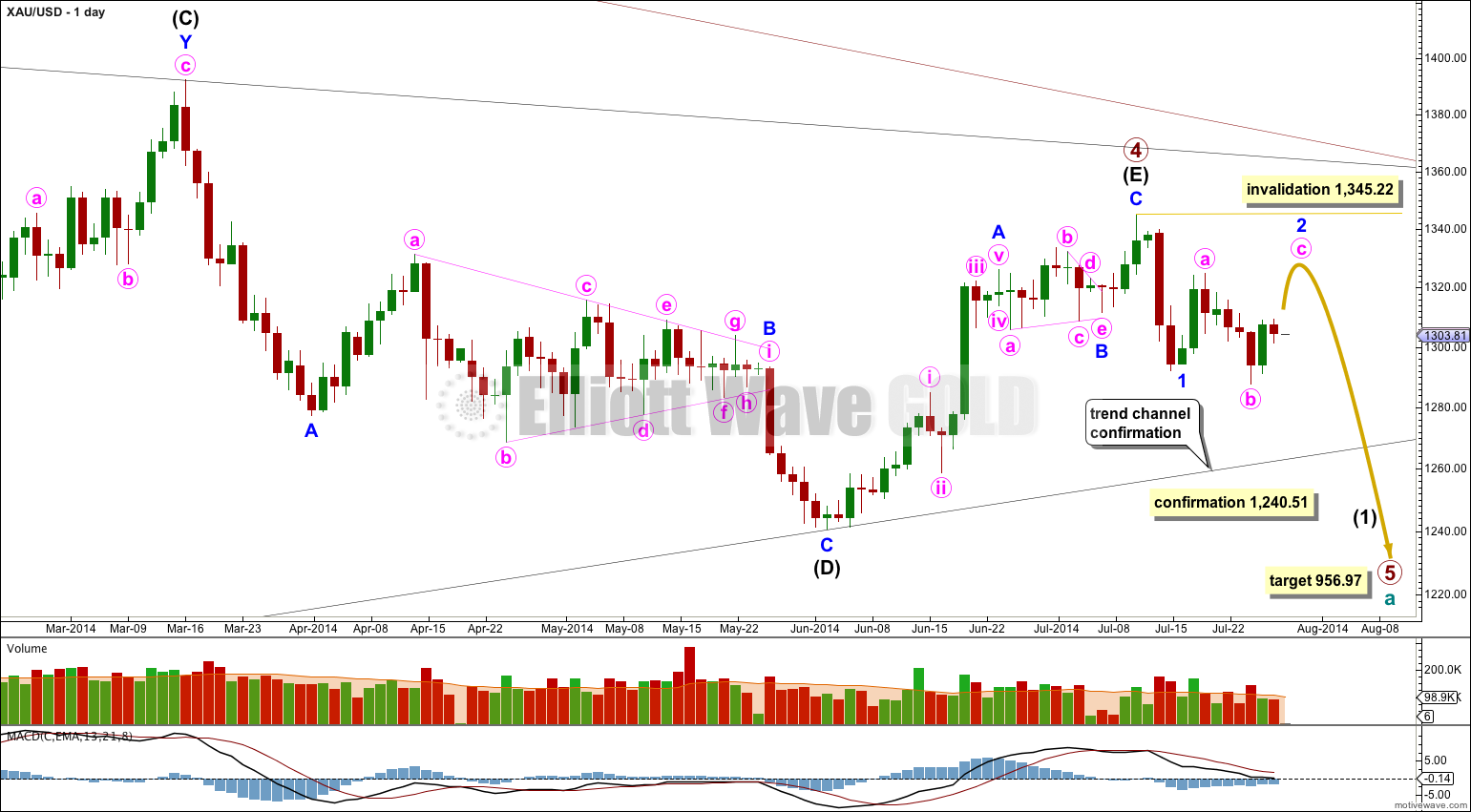 The main wave count sees primary wave 4 a complete regular contracting triangle lasting 54 weeks. Primary wave 2 was a deep 68% running flat correction. Primary wave 4 shows alternation in depth at only 27% and some alternation in structure.
Primary wave 3 is just 12.54 short of 1.618 the length of primary wave 1. At 956.97 primary wave 5 would reach equality in length with primary wave 1. This is the most common ratio for a fifth wave so this target has a good probability.
Primary wave 1 was remarkably brief at only three weeks duration. I would expect primary wave 5 to last longer, maybe five, eight or thirteen weeks.
Within the start of primary wave 5 minor wave 1 is a completed five wave impulse. Minor wave 2 is unfolding as an expanded flat correction. Minor wave 2 may not move beyond the start of minor wave 1 above 1,345.22.
When minor wave 2 is a complete structure then the next movement should be a strong third wave down for minor wave 3.
At this stage I would judge this main wave count to have about a 60% probability. Movement to a new low below 1,287.75 at this stage would invalidate the alternate wave count below and so increase the probability of this main wave count.
A full daily candlestick below the (B)-(D) trend line would further increase the probability of this main wave count to over 90%. I would have full confidence in it with a new low below 1,240.51.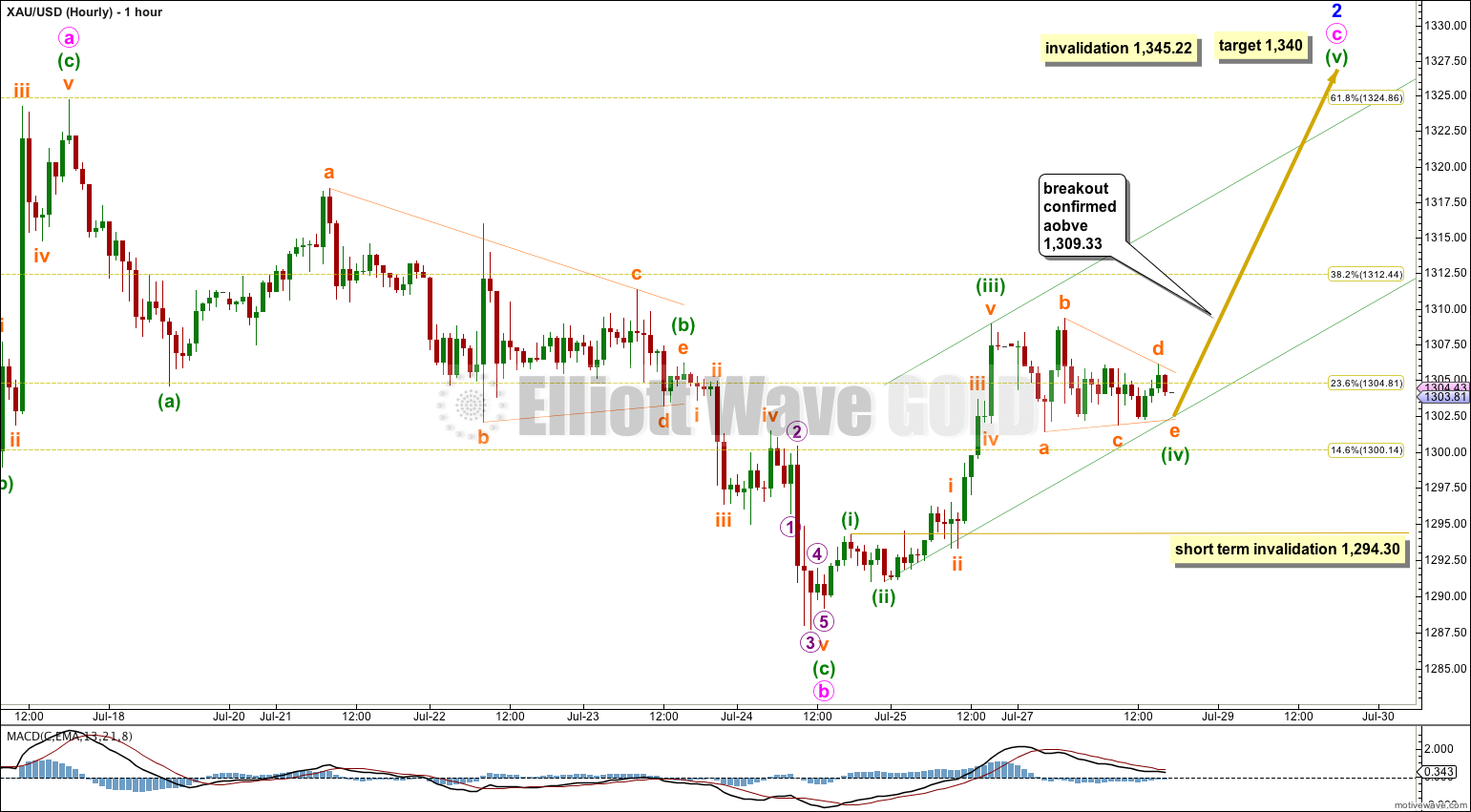 No matter how this upwards movement for minute wave c is labeled the structure is incomplete. At this stage it looks like a fourth wave triangle is almost complete.
For the triangle to remain valid subminuette wave e may not move beyond the end of subminuette wave c below 1,301.89. If this price point is breached in the next few hours then minuette wave (iv) is not a triangle and would be most likely a combination. Minuette wave (iv) may not move into minuette wave (i) price territory below 1,294.30.
If the triangle remains valid then we have a very high probability that the next movement will be upwards. A new high above 1,309.33 could not be subminuette wave d moving higher and so at that point the triangle must be over and the fifth wave up must be underway.
At 1,340 minute wave c would reach 1.618 the length of minute wave a. This is a typical ratio for a C wave within an expanded flat correction.
When the triangle for minuette wave (iv) is complete then I can add to the target calculation at a second wave degree. The target may widen to a small zone or change tomorrow.
When the triangle for minuette wave (iv) is complete redraw the channel using Elliott's second technique: the first trend line from the ends of minuette waves (ii) to (iv), then a parallel copy on the end of minuette wave (iii). I would expect minuette wave (v) to end midway or at the upper edge of the channel. When the channel is breached by subsequent downwards movement that shall be earliest indication that minor wave 2 is over and minor wave 3 has begun.
Minute wave a lasted two days. Minute wave b lasted four and a half days. I would expect minute wave c to last four to five days in total so it may end in another two to three days.
Alternate Daily Wave Count.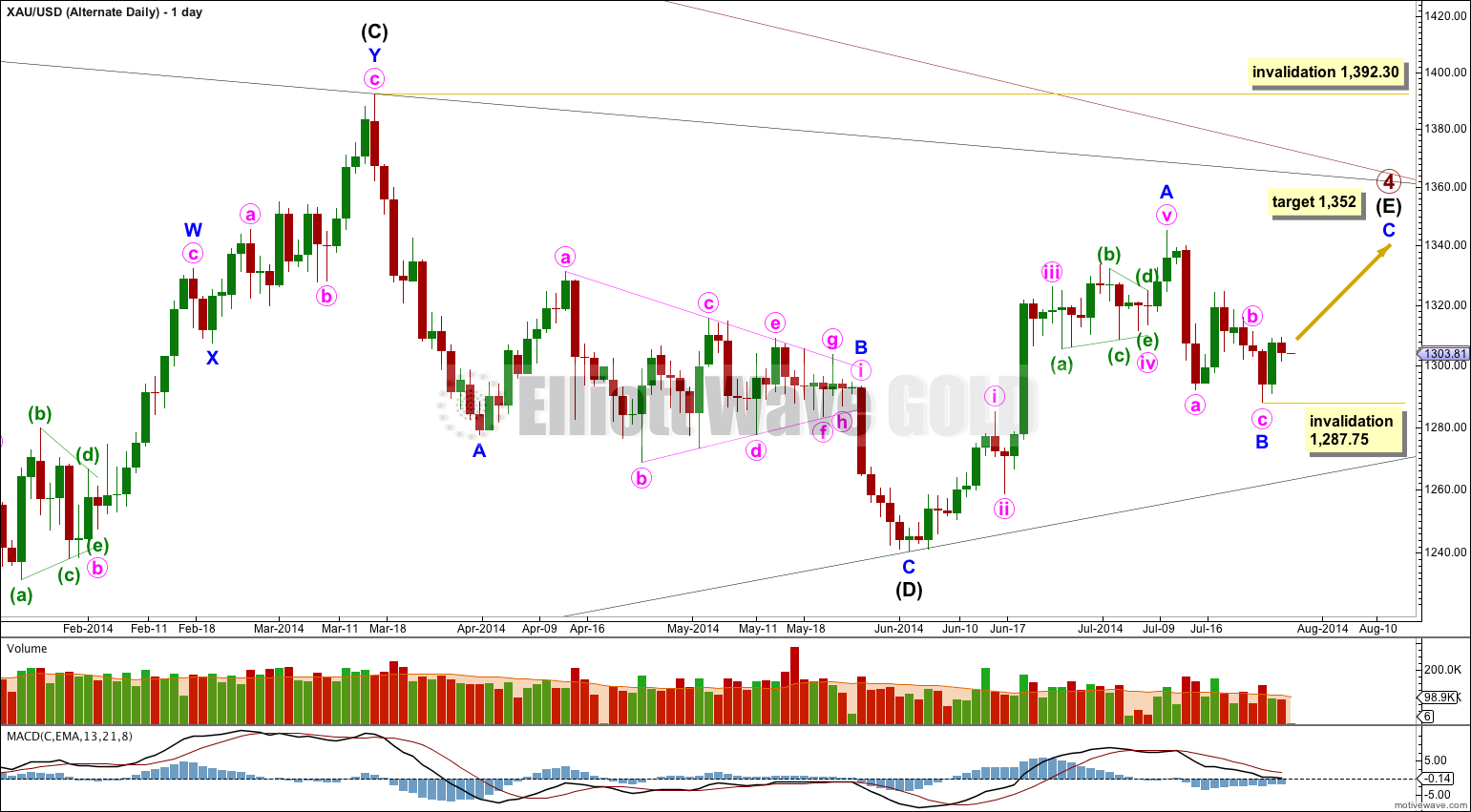 It is still possible that intermediate wave (E) is an incomplete zigzag and so the triangle of primary wave 4 is incomplete.
I have adjusted this alternate today. The previous wave count no longer had the right look at all, and so is discarded.
I have checked the subdivisions within minor waves A and B and this wave count has a good fit. It has a reasonable probability and would judge it to be about 40% at this stage. My only problem with it, and the reason for it still being an alternate, is the lack of proportion between minute waves ii and iv within minor wave A: minute wave ii is a brief zigzag lasting only one day and minute wave iv is a triangle lasting 10 days. Although triangles are more long lasting than zigzags, so some disproportion would be expected, this lack of proportion is high and reduces the probability of this wave count. The main wave count does not have this problem and has a higher probability.
Minor wave B downwards so far looks like a very clear three wave structure on the daily chart. It subdivides perfectly as a zigzag on the hourly chart.
At 1,352 minor wave C would reach 0.618 the length of minor wave A.
Within minor wave C no second wave correction may move beyond the start of its first wave below 1,287.75.
Intermediate wave (E) may not move beyond the end of intermediate wave (C) above 1,392.30.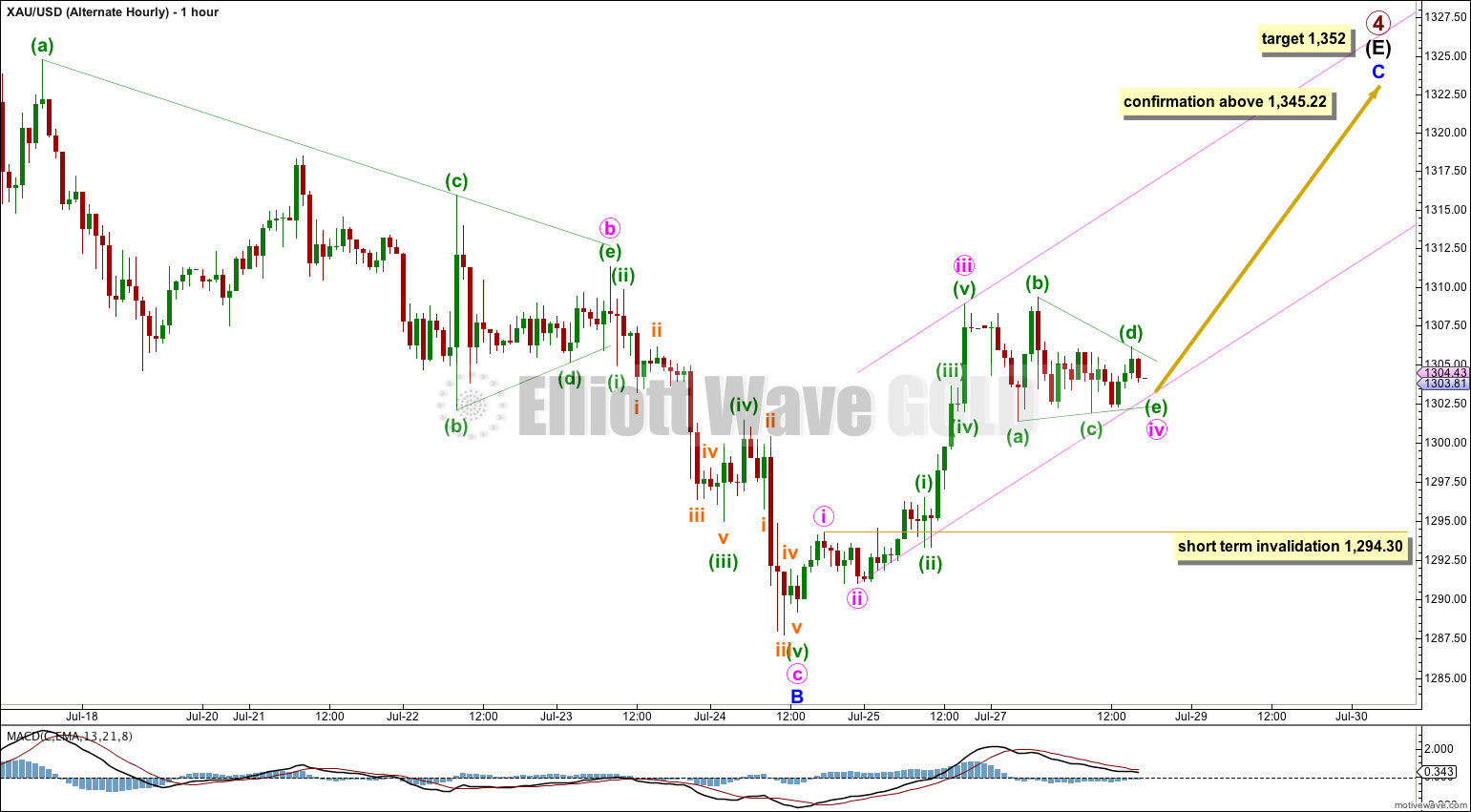 The subdivisions within most recent upwards movement are seen in exactly the same way for this alternate as for the main wave count, so the only divergence between the two today is in the targets and invalidation points.
I have a lot of confidence that we shall see upwards movement from Gold once this small triangle is complete. If we see movement above 1,345.22 this alternate would be confirmed.
For this alternate wave count it is extremely likely that minor wave C would make at least a slight new high above the end of minor wave A at 1,345.22 to avoid a truncation.
This analysis is published about 06:30 p.m. EST.