Today's Trading Room looks at US Oil only.
To learn what the Trading Room is about see first Trading Room analysis here.
Trading Room will focus on classic technical analysis. Elliott wave analysis will be for support and for targets / invalidation points.
US Oil (WTI Crude – Spot)
TECHNICAL ANALYSIS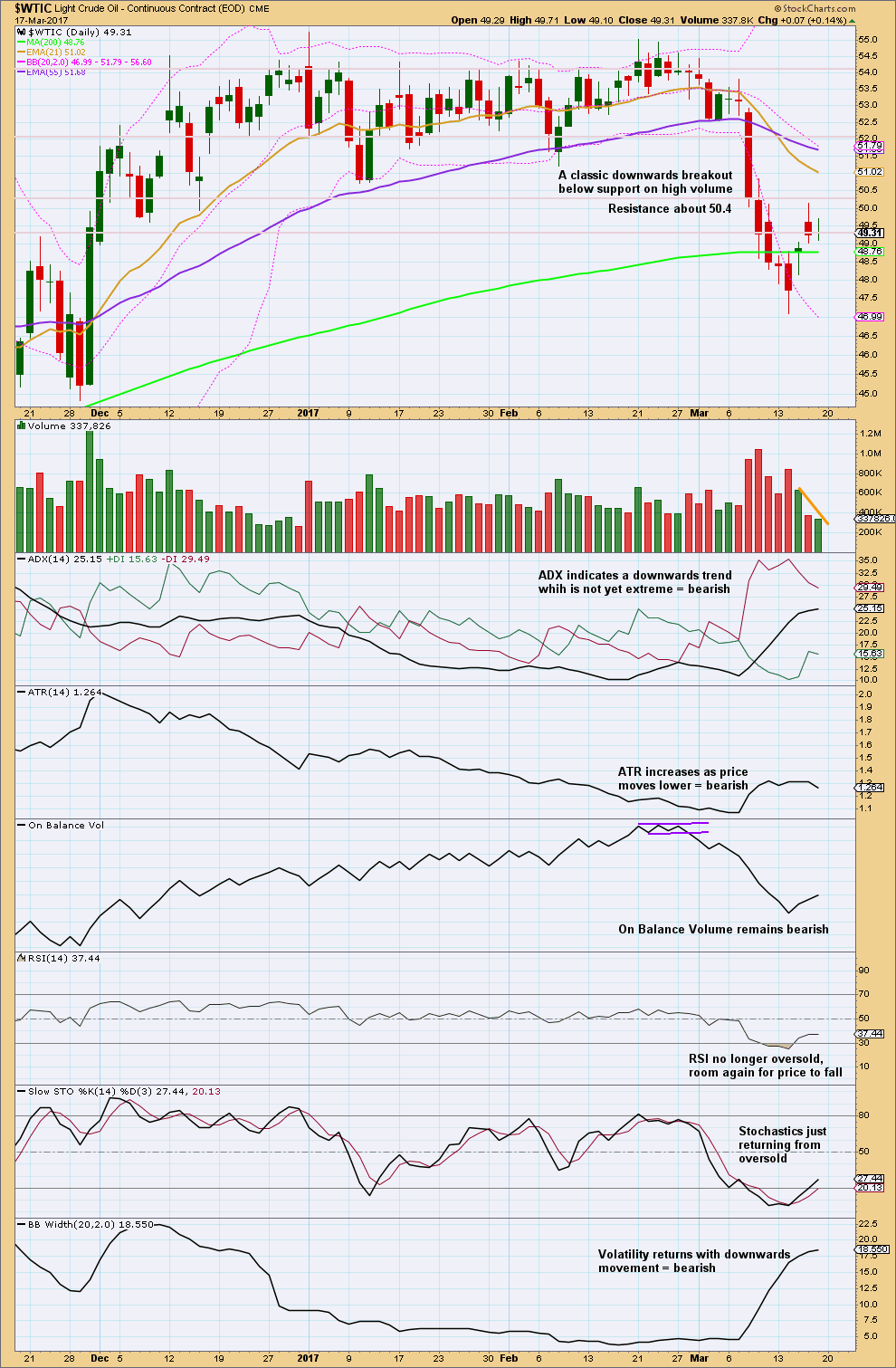 Click chart to enlarge. Chart courtesy of StockCharts.com.
US Oil is in a clear downwards trend that is not yet extreme. There will be corrections along the way; price does not move in a straight line. Corrections within a trend present an opportunity to join the trend. The challenge is to find when the correction is over.
Price was previously range bound for a long period of time with support about 51.22 to 50.70. On the 8th of March price broke below support on a strong downwards day with strong volume. This was a classic downwards breakout.
It looks now like Oil is in a small correction, curving up to find resistance at prior support about 50.70.
ELLIOTT WAVE ANALYSIS
A larger flat correction may be unfolding for a fourth wave (EWG members should refer to the US Oil monthly chart for the bigger picture here). Within a flat correction, intermediate wave (B) must retrace a minimum 0.9 length of intermediate wave (A) at 28.61.
Trading advice for members only: [Content protected for Elliott Wave Gold members only. To subscribe click here.]
DISCLAIMER
As always, it is essential that anyone using this analysis for trading advice manages risk carefully. Follow my two Golden Rules:
1. Always use a stop.
2. Never invest more than 1-5% of equity on any one trade.
Trading is about probabilities, not certainties. Failure to follow my two Golden Rules of trading indicates failure to manage risk.
Accept that this analysis may be wrong. It is impossible for any analyst to predict with certainty what a market will do next.
TRADING ROOM SUMMARY TABLES
OPEN POSITIONS
CLOSED POSITIONS
RECOMMENDATIONS
[Content protected for Elliott Wave Gold members only. To subscribe click here.]
This analysis is published @ 02:16 a.m. EST.