Natural Gas: Elliott Wave and Technical Analysis | Charts – February 6, 2020
Last analysis of Natural Gas,
April 2017
, expected more upwards movement overall to complete a cycle degree B wave. The target was at 4.731. Upwards movement reached 4.903 (November 2018)  and then turned strongly downwards from there.
Summary: Downwards movement may continue for another one to few years. The final target is 0.025.
WEEKLY CHART
Cycle wave b is now a complete double zigzag.
Cycle wave c downwards has begun. Cycle wave c would be very likely to make at least a slight new low below the end of cycle wave a at 1.611 to avoid a truncation.
Cycle wave c must subdivide as a five wave structure, most likely an impulse. Within the impulse, so far primary waves 1 and 2 may be complete.
Primary wave 3 may only subdivide as an impulse. Within primary wave 3, no second wave correction may move beyond its start above 2.904.
DAILY CHART
This daily chart focusses on primary wave 3.
Draw a best fit channel about primary wave 3 as shown. Assume the downwards trend may continue  while price remains below the upper edge of the channel.
Commodities have a tendency to exhibit swift and strong fifth waves. This tendency is espeically prevalent in fifth waves to end third wave impulses one degree higher. Any one or more of upcoming fifth waves of minute wave v, minor wave 5, intermediate wave (5), and especially primary wave 5 may exhibit this tendency as selling climaxes.
Within the impulse of primary wave 3, intermediate wave (4) may not move into intermediate wave (1) price territory above 2.205.
When price breaks out of the channel with upwards movement, that may indicate primary wave 3 may be complete and primary wave 4 may have arrived.
TECHNICAL ANALYSIS
WEEKLY CHART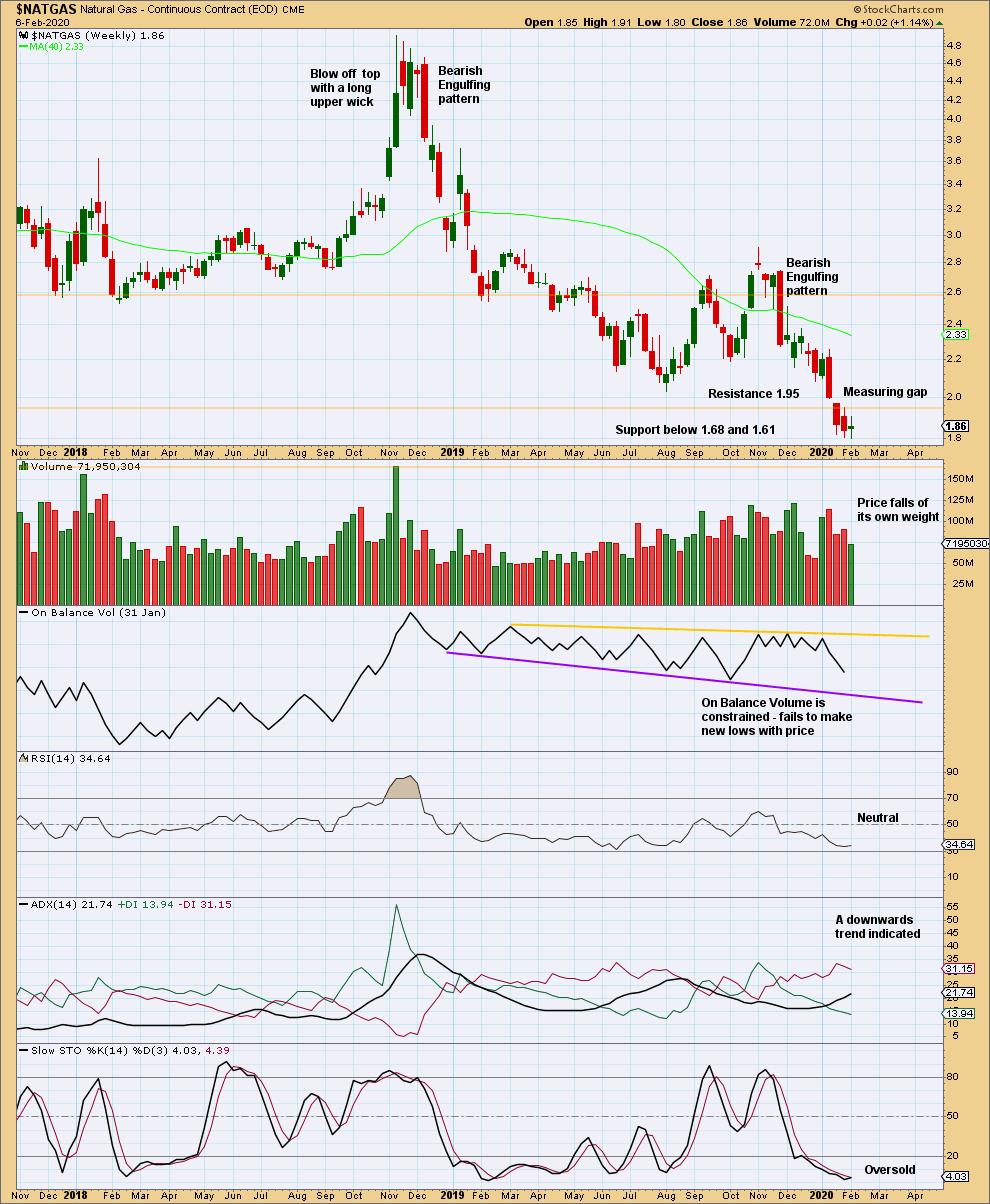 Click chart to enlarge. Chart courtesy of StockCharts.com.
The downwards trend has plenty of room to continue before it reaches extreme. This downwards trend may still be in a relatively early stage. While this market trends, Stochastics may remain oversold for a long period of time. Look for RSI to reach oversold and then exhibit bullish divergence while ADX reaches extreme. If this happens, then expect a trend change.
DAILY CHART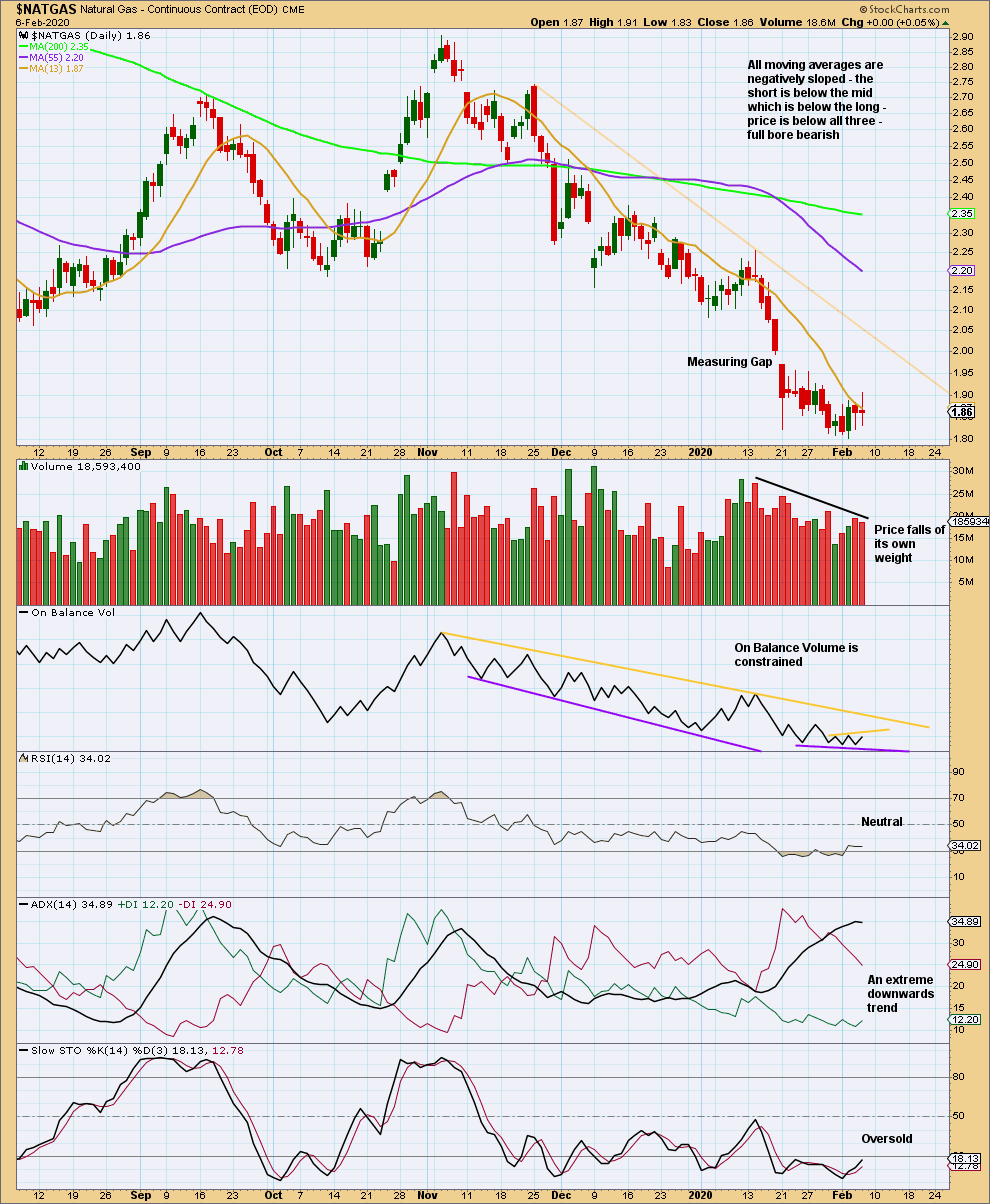 Click chart to enlarge. Chart courtesy of StockCharts.com.
The measuring gap gives a target at 1.709, which is not yet met.
Volume does not support downwards movement, and at this time frame ADX has reached extreme. A bounce or consolidation may relive extreme conditions before the larger trend can continue.
Published @ 01:02 a.m. EST on February 7, 2020.
—
Careful risk management protects your trading account(s).
Follow my two Golden Rules:
1. Always trade with stops.
2. Risk only 1-5% of equity on any one trade.
—
New updates to this analysis are in bold.