Today's Trading Room looks at USDJPY, EURUSD and Copper.
To learn what the Trading Room is about see first Trading Room analysis here.
Trading Room will focus on classic technical analysis. Elliott wave analysis will be for support and for targets / invalidation points.
USDJPY
TECHNICAL ANALYSIS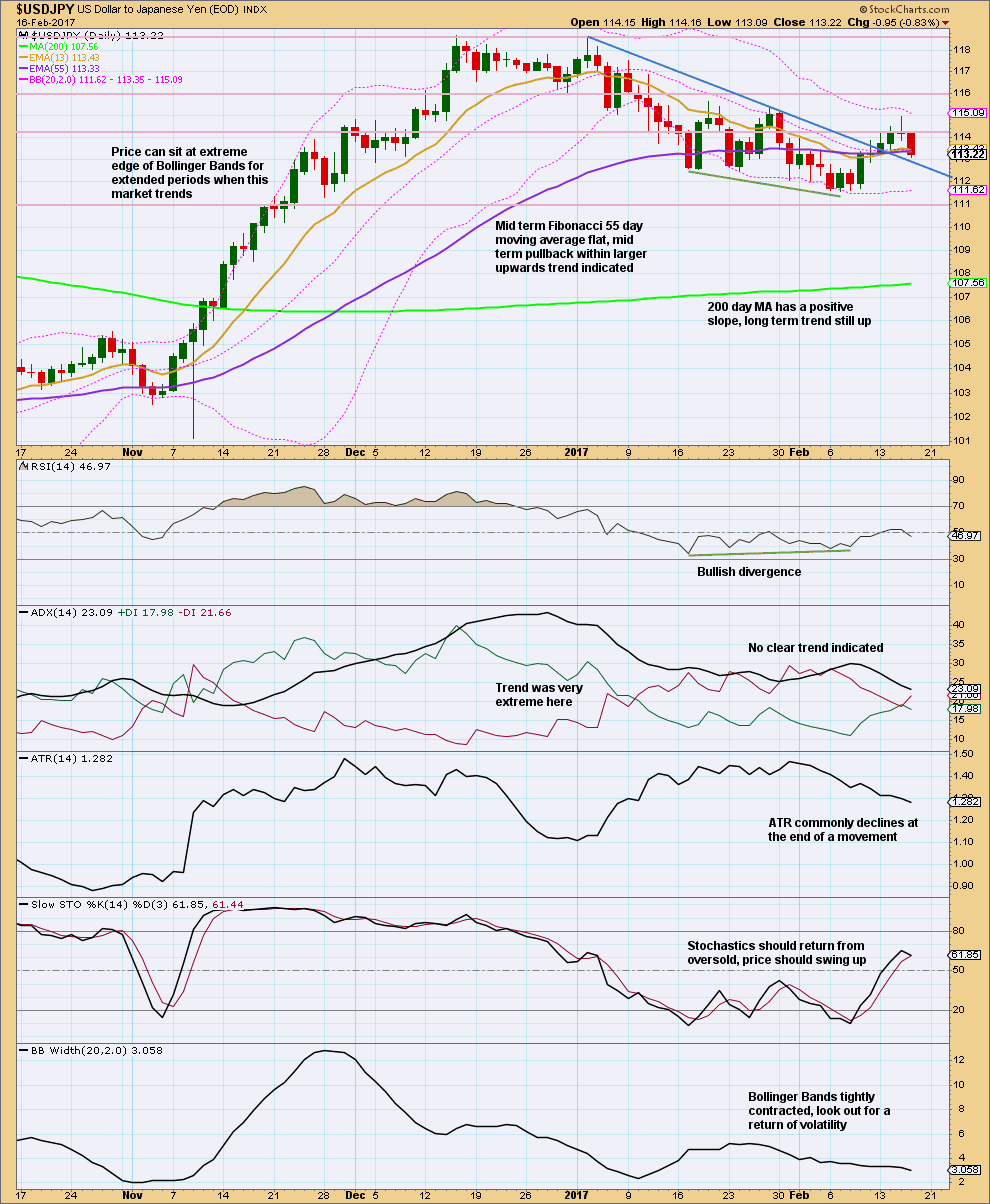 Click chart to enlarge. Chart courtesy of StockCharts.com.
A pullback within the new upwards trend may offer an opportunity to join the trend when it is done. However, this is still very early stages; ADX does not yet indicate a new upwards trend. This is a lagging indicator; it is based upon a 14 day average.
Price may find support here at the blue trend line.
Caution: the last three daily candlesticks give a reversal signal, an Evening Doji Star pattern. This indicates a change from up to either down or sideways.
ELLIOTT WAVE ANALYSIS
This market is behaving as expected so far. Elliott wave targets may be used as profit targets.
HOURLY CHART
At this stage, expect a 0.618 retracement of the prior upwards wave.
Trading advice for members only: [wlm_private "GOLD Daily YT|GOLD Daily NT|GOLD Daily NTGR|GOLD DAILY 6M NT|GOLD DAILY 6M YT|GOLD DAILY 6M NT GFR|GOLD Plus Daily YT|GOLD Plus Daily NT|OIL SILVER Weekly YT|OIL SILVER Weekly NT|GOLD Plus Daily 6M NT|GOLDPLUSDAY6M|OIL SILVER Weekly 6M NT|GOLDPLUSDAY1M|GOLDPLUSDAY1MYT|GOLDDAY6M|GOLDDAY1M|GOLDDAY1MYT|OILSILVERWEEK6M|OILSILVERWEEK1M|OILSILVERWEEK1MYT"]Watch price carefully over the next few hours. If price can break above the lilac resistance line, then enter long. Stops may be set just below the last swing low at 111.57 for a longer term trade; give the market room to move. Alternatively, stops may be set just below the lilac line. If doing that, reduce position size to no more than 2% of equity.[/wlm_private]
EURUSD
TECHNICAL ANALYSIS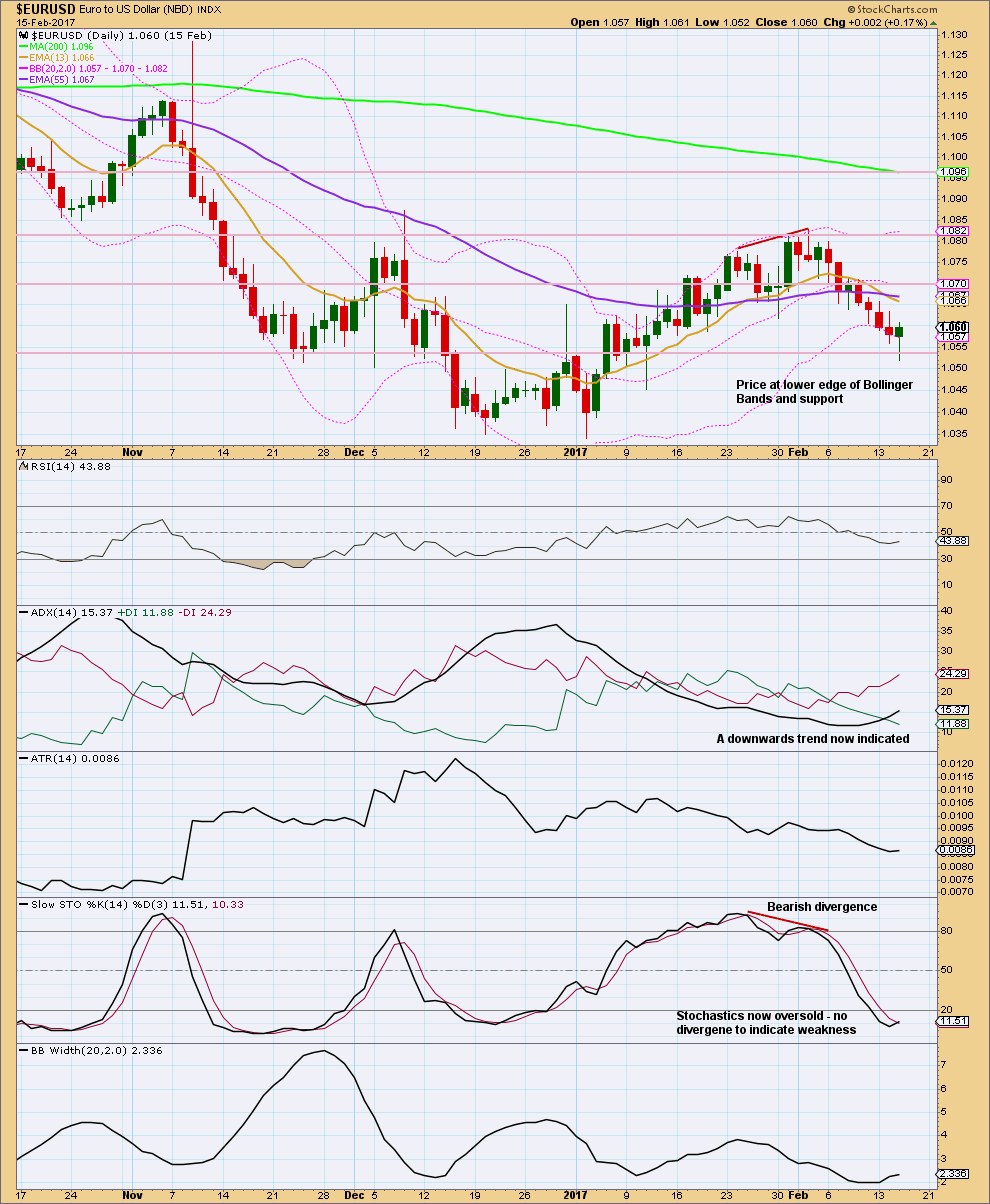 Click chart to enlarge. Chart courtesy of StockCharts.com.
Overall, this chart looks bearish. When markets trend downwards, corrections offer an opportunity to join the trend. In this case, the long lower wick and green candlestick today are slightly bullish. A bounce may be unfolding within a downwards trend here.
ELLIOTT WAVE ANALYSIS
A deeper bounce may find resistance at the lower edge of the best fit yellow channel. On Balance Volume remains bearish.
HOURLY CHART
Price has breached a support line, but this line is very steep and does not offer good technical significance. Price may yet move higher to the 0.618 Fibonacci ratio before turning. Watch this closely over the next 24 hours. If price begins to move down and away strongly, then the next wave down may be underway.
Copper
TECHNICAL ANALYSIS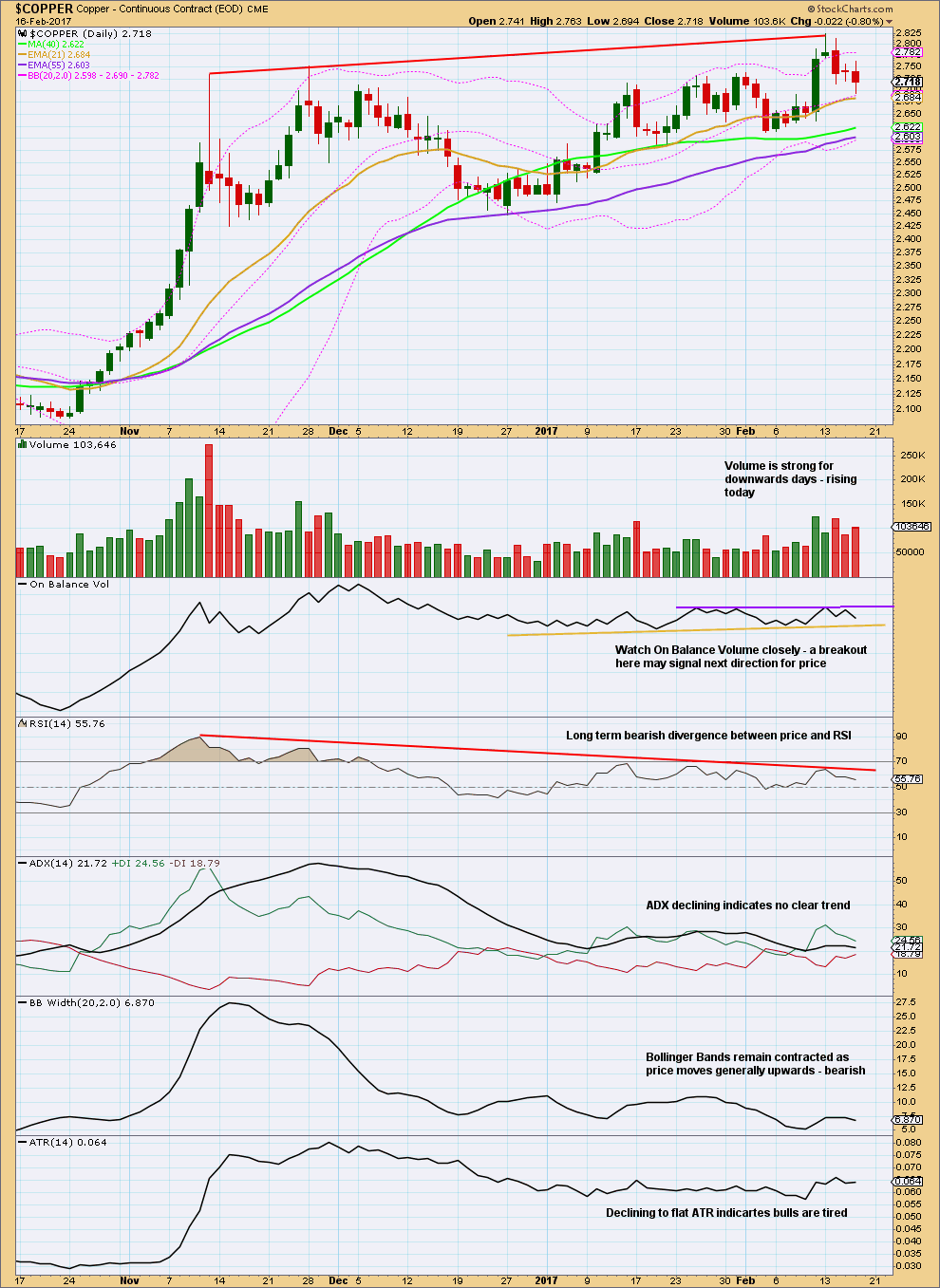 Click chart to enlarge. Chart courtesy of StockCharts.com.
Price is finding support about the short term Fibonacci 13 day moving average. If a full daily candlestick can print below this average, it would offer a little confidence in a trend change.
Upwards movement shows weakness: divergence with RSI, flat to declining ATR, and contracted Bollinger Bands.
However, there is as yet no indication nor confirmation of a trend change from up to down. Watch On Balance Volume closely over the next few days; a breakout there may indicate the next direction for price.
ELLIOTT WAVE ANALYSIS
If the triangle labelled primary wave X is correct, then this upwards movement may not be a developing impulse, so it must be corrective. Triangles may not be a sole corrective structure within a second wave.
This upwards movement fits as a completed double zigzag. This may be a large counter trend movement within a bigger downwards trend.
If price prints a full daily candlestick below the lilac support line, then the next wave down may have begun.
MONTHLY CHART
Watch the green resistance line (copied over to the daily chart, both on a semi-log scale). If price prints at least one full daily (and preferably weekly) candlestick above that trend line, then expect more upwards movement. If that happens, then my Elliott wave count above would be wrong.
DISCLAIMER
As always, it is essential that anyone using this analysis for trading advice manages risk carefully. Follow my two Golden Rules:
1. Always use a stop.
2. Never invest more than 1-5% of equity on any one trade.
Trading is about probabilities, not certainties. Failure to follow my two Golden Rules of trading indicates failure to manage risk.
Accept that this analysis may be wrong. It is impossible for any analyst to predict with certainty what a market will do next.
This analysis is published @ 03:46 a.m. EST.