Today's Trading Room looks at Copper only.
To learn what the Trading Room is about see first Trading Room analysis here.
Trading Room will focus on classic technical analysis. Elliott wave analysis will be for support and for targets / invalidation points.
Copper (Spot)
TECHNICAL ANALYSIS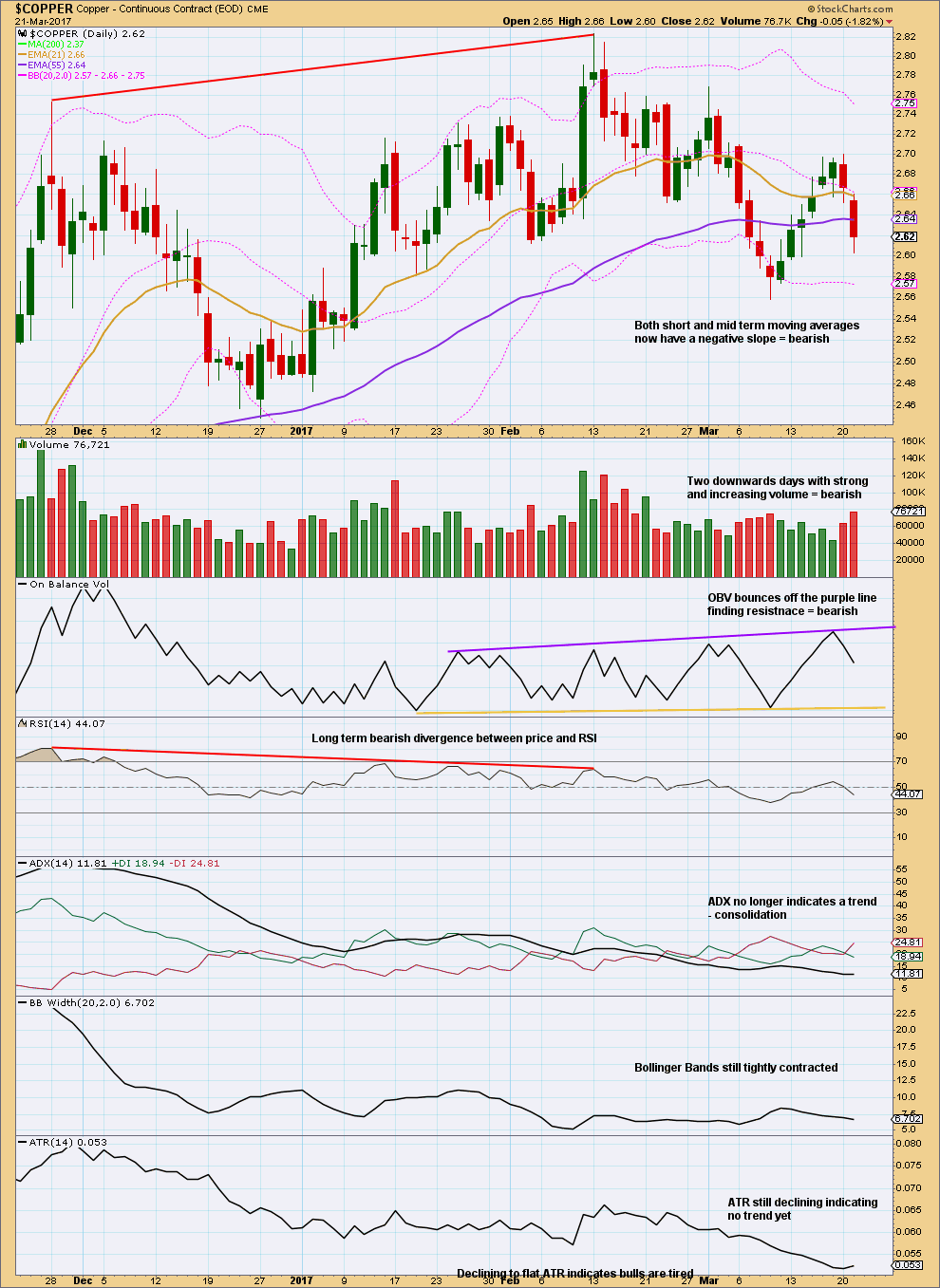 Click chart to enlarge. Chart courtesy of StockCharts.com.
The first movement downwards from the high on the 13th of February to the low of the 23rd of February was choppy and overlapping and came on overall declining volume. The market fell of its own weight.
The bounce up to the 1st of March came with some increase in volume. The volume profile looks slightly bullish up to this point, but not strongly.
The fall to the last low on the 9th of March came with increasing volume. This looks clearly bearish.
The next bounce to the high of the 20th of March came with clearly declining volume. This looks like a counter trend movement within a new downwards trend.
ADX has not yet indicated a downwards trend. It is below 15 although it is rising slightly today and the -DX line is above the +DX line.
Contracting Bollinger Bands and declining ATR suggest the market is not yet trending.
The most bearish part of this chart is the recent volume profile. Other indicators suggest caution for short positions.
ELLIOTT WAVE ANALYSIS
Copper may be in the very early stages of a new downwards trend. The green trend line goes back to August 2011 and has recently provided resistance. After price breached the lower edge of the lilac line, it then turned up to find resistance at that line for a typical throwback.
The gold channel is a base channel about minor waves 1 and 2. The upper edge has provided resistance for another second wave correction. The lower edge may now be providing some support. If this Elliott wave count is correct, then Copper should break below support at the lower edge of this channel. It may then turn upwards for a test of resistance before moving down and away.
Trading advice for members only: [Content protected for Elliott Wave Gold members only. To subscribe click here.]
DISCLAIMER
As always, it is essential that anyone using this analysis for trading advice manages risk carefully. Follow my two Golden Rules:
1. Always use a stop.
2. Never invest more than 1-5% of equity on any one trade.
Trading is about probabilities, not certainties. Failure to follow my two Golden Rules of trading indicates failure to manage risk.
Accept that this analysis may be wrong. It is impossible for any analyst to predict with certainty what a market will do next.
TRADING ROOM SUMMARY TABLES
OPEN POSITIONS
CLOSED POSITIONS
RECOMMENDATIONS
[Content protected for Elliott Wave Gold members only. To subscribe click here.]
This analysis is published @ 02:07 a.m. EST.